Shekinah Ministries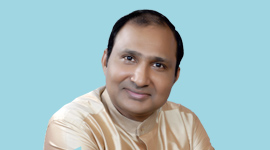 Shekinah Ministries was founded on March 4th, 2011 with a goal to share the gospel and impact people through music. Pr. James John is the founder and director of Shekinah Ministries.
Even from a young age, he used to play instruments and write songs for the glory of God. In 2003, he left his job to serve the Lord in Odisha. He is an ordained pastor of IPC. He has written over 300 songs and has recorded more than 1500 songs. Almost 20 Mp3's have been released so far. God enabled him to compose over 350 songs.
He resides in Kerala, with his wife, Mercy James and is blessed with a daughter, Keziah James.
Shekinah Ministries is a gospel-oriented team working for the expansion of God's kingdom. With a vision to bring people to the love of Christ and to proclaim the news of God's salvation, peace and joy. The ministry has a team dedicated to evangelising people through various mediums such as personal evangelism, music production and counselling. Moreover, they have a music team which has been a great blessing in the Christian Community. Since 2011, they have been active in Christian events such as Wedding Choir, Conventions, and Revival meetings, and they also have a youtube channel, "Shekinah Media House" which publishes songs every week.