Shekinah Ministries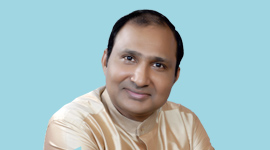 James was born on May 17th 1966. He was born and brought up in a Pentecostal family at Thonniamala in Pathanamthitta District Kerala. At his young age he accepted Jesuschrist as his saviour and took baptism in 1983. From his young age he used to write and sing songs for the Lord.After college education and technical studies, worked in Bombay for 2 years, and then he came back to Kerala and joined with musical teams and song for the Lord in various places of India.God gave him the opportunity to sing in All India radio and then he went to Dubai for job .There he served the god as the Director of heavenly beats.He completed theological studies in Dubai from 2000-2003.While he was working there God called him for full time Ministry in 2003.Then he left his job ,came to North India(Odisha) an worked for Christ Six years there(2003-09).
He is Ordained as a Pastor in may 4th 2005 at IPC. Pr. James is a song writer,composer,music Director and Producer.God enabled him to wrote more than 100 heart touching Christian Devotional songs for the past 20 years.He has released 17 audio CD's and 15 MP3's and still writing and singing for the Glory of God.God blessed him with a beautiful wife Mercy(Daughter of late Pr.V.A Thomas) and a Daughter Keziah Susan James.
Pr. James is the Director of Shekinah Ministries and Shekinah Singers,a Christian Devotional singing group,which was founded on March 4th 2011.Shekinah Ministries has a music band which comprises of anointed musicians and singers who work for the glory of God's Kingdom.